Back to TILs
Mosquitto
Date: 2020-06-29Last modified: 2023-03-07
Introduction
MQTT is a very lightweight messaging protocol
Specifically designed for machine-to-machine telemetry
The MQTT protocol is based on a TCP connection.
IBM Watson uses MQTT to allow it to communicate with devices.
Pros
Lightweight and efficient—which means it's optimal for small bandwidth environments such as microcontrollers
Bi-directional communications
Messages are encrypted using TLS
Offers support for unreliable networks using persistent sessions
Cons
Doesn't support video streaming
Messages are transmitted asynchronously
Can experience issues with latency and speed.
Install server
sudo apt-get install mosquitto

Install client
sudo apt-get install mosquitto mosquitto-clients

Subscribe a topic
mosquitto_sub -t "test_topic"

Publish on topic
mosquitto_pub -t "test_topic" -m "HELLO WORLD!"

Testing the communication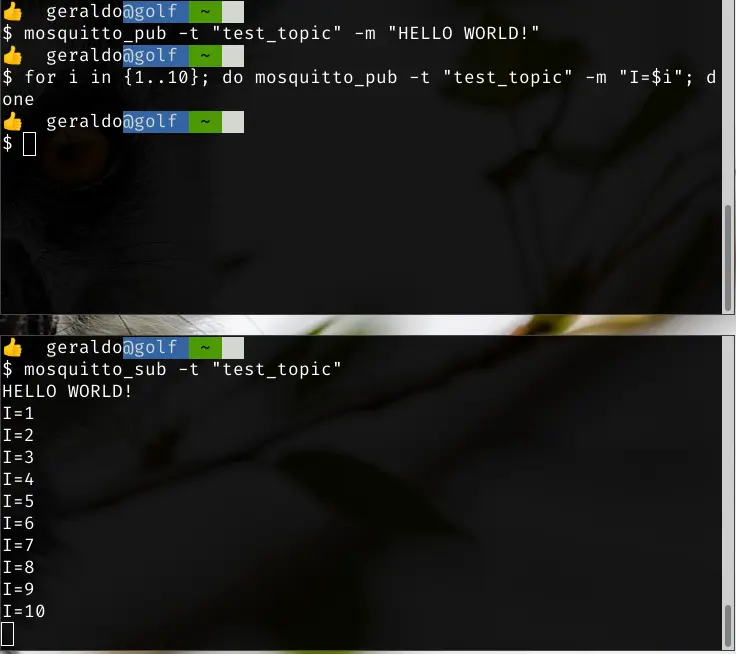 Producer:
mosquitto_pub -t "test_topic" -m "HELLO WORLD!"
for i in {1..10}; do mosquitto_pub -t "test_topic" -m "I=$i"; done

Consumer:
mosquitto_sub -t "test_topic"
HELLO WORLD!
I=1
I=2
I=3
I=4
I=5
I=6
I=7
I=8
I=9
I=10

C++ and C library
sudo apt install libmosquitto-dev
or 
sudo apt install libpaho-mqtt-dev

References